Utility Solar and Energy Storage Market Update
Victor Phan, 26 September 2022
Q2 2022 UTILITY-SCALE SOLAR MARKET UPDATE1
After a record year in 2021, the US Solar Market slowed due to supply chain constraints, high commodity prices and complex trade policy. In Q1, over 2.2GW of solar came online; however, this was the lowest first quarter since 2019. The 2.2GWDC of projects that came online represent a 40.6% decrease compared to Q1 2021 but a 71.4% increase compared to Q1 five years prior.
Figure 1: US utility-scale PV capacity installed by quarter
Over the course of the quarter, 2.4GWDC of new contracts were signed, bringing the contracted pipeline to 80.6GWDC. Despite the near-term slowdown, the US utility-scale market is expected to add 112GW between 2022 and 2027 as growth is expected to return in 2023. Recent political events are expected to provide meaningful tailwind to the industry as well.
Figure 2: US utility-scale PV capacity installed and forecasted by year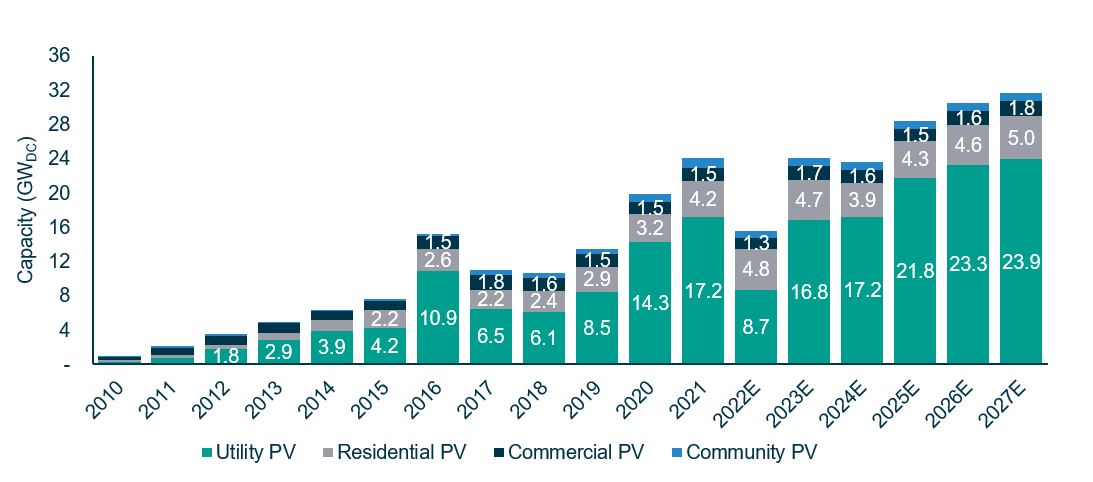 In early June, President Biden removed tariffs on solar panels for at least 24 months. The tariff exemption is an important move as the concern that taxes would be levied after the completion of projects, would likely have had a significant softening impact on the industry. The pause allows projects to go ahead for at least two years. Concurrently, the US government is working to bring more production online in the US, to help mitigate concerns around human rights violations that are connected to solar panels produced in China.
The growth of the US market received another boost in early August. After a year of negotiations and stalled efforts, landmark climate legislation was passed through Congress and signed by President Biden as part of the Inflation Reduction Act. The measures could result in reducing annual emissions by as much as 44 percent by the end of this decade2. The key initiative in achieving this huge shift is replacing existing fossil fuel generation with new, cheaper clean energy to increase its share of energy production in the US. The measures include lifting (to 30%) and extending (through the end of 2024) the Investment Tax Credit and adds a production tax credit which starts in 2022 at $0.026/kWh and rises with inflation. After 2024, tax credits become emissions-based, technology-neutral tax credits available to any facility with zero or net-negative carbon emissions and the facilities can choose either a production tax credit or an investment tax credit. Standalone battery storage is now also eligible for the Investment Tax Credit. Wood Mackenzie notes that the extension of ITC, expansion of PTC eligibility to solar, and ability of project owners to elect direct payment of the tax credits would incentivize an additional 47 GWDC to be installed throughout 2022 to 2027.