2023 Second Quarter Update
Victor Phan, 28 September 2023
US UTILITY-SCALE SOLAR MARKET UPDATE1
In the first quarter of 2023, the US solar industry installed 6.1 GWDC of capacity, marking a 47% surge compared to Q1 2022, albeit reflecting a 19% decline from Q4 2022. This performance stood as an unprecedented achievement for the industry during a first quarter and was primarily propelled by the commencement of previously delayed utility-scale solar projects. Photovoltaic solar (PV) made up the majority (54%) of all newly added electricity-generating capacity in the first quarter of 2023.
Figure 1: New US electricity-generating capacity additions, 2010 – Q1 2023
Q1 2023 marked a significant resurgence in installations of US utility-scale solar with its strongest first quarter performance to date, with 3.8 GWDC installed. The sector witnessed an impressive 66% year-over-year growth, surpassing the previous Q1 record by over 170 MWDC. Additionally, Q1 saw the signing of contracts for over 3 GWDC of new projects, keeping the total utility-scale solar pipeline stable at around 90 GWDC.
Figure 2: US utility-scale PV capacity installed by quarter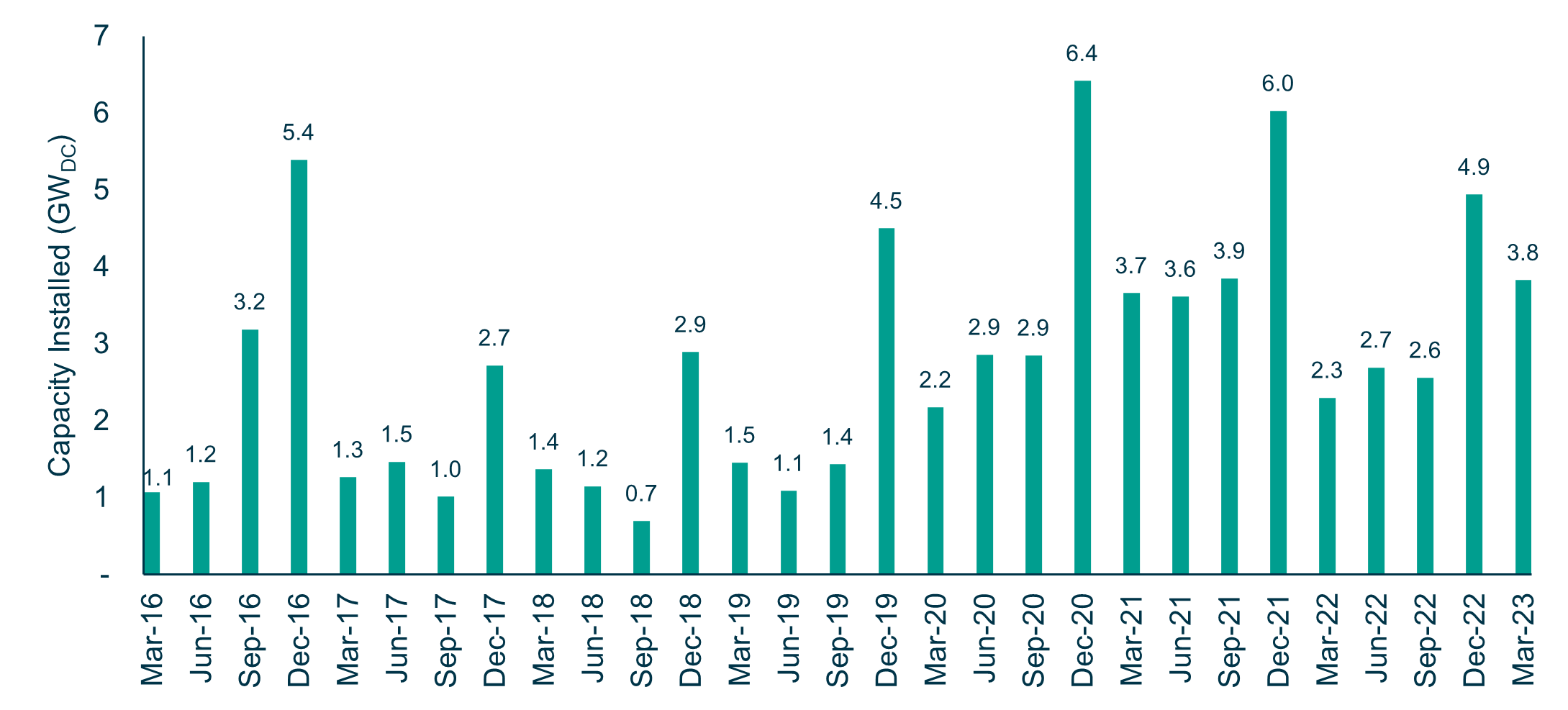 The robust installation performance in Q4 2022 and Q1 2023 signifies the initial steps toward recovery for developers dealing with supply chain challenges. Developers are gradually replenishing their inventory, thanks to the release of more than 40% of electronics shipments from Malaysia, Thailand, and Vietnam that were previously detained under the Uyghur Forced Labor Prevention Act (UFLPA) (noting that not all of these shipments related to solar modules). Furthermore, President Biden's veto of legislation aiming to revoke the two-year pause on new solar tariffs ensures that the industry will have ample time to find alternative supply sources should new duties potentially take effect in June 2024.

While there's a gradual improvement in inventory levels, the utility-scale solar industry continues to face supply chain limitations. The increasing number of shipments being released suggests that the UFLPA's operational processes are gradually falling into place. However, the utility-scale solar industry will continue to face challenges such as the rising prevalence of NIMBYism (Not In My Backyard), prolonged interconnection timelines and associated expenses, and a shortage of available labor.

Despite facing these challenges, Wood Mackenzie predicts that the total new utility-scale installations will reach 172 GWDC from 2023 to 2028. A robust performance in the first quarter has improved Wood Mackenzie's outlook for 2023, projecting it to exceed 20 GWDC. Although the market will begin to experience the effects of the Inflation Reduction Act (IRA) in 2024 and 2025, Wood Mackenzie has revised downward the later years of the forecast due to evolving assumptions regarding delays in interconnection queues and the competitiveness of solar compared to other technologies.
Figure 3: US utility-scale PV capacity installed and forecasted by year
---
1 Wood Mackenzie / SEIA U.S. Solar Market Insight®. The Q1 2023 report (2022 Year in review) provides data through Q4 2022.